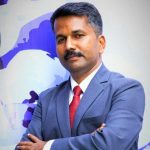 Welcome to the website of Gyanjyoti Podar Learn School-Kinwat
 As the Principal of the school, I feel honoured and privileged to be part of an educational institution where every stakeholder is a learner and every day is an opportunity to learn and discover. We look at ourselves as a community of learners, where everyone learns including our teachers, parents & staff. This website has been developed to enable everyone to become familiar with our school, its policies, and other procedures.
Gyanjyoti Podar Learn School, is a great place to teach and learn! Our teachers are committed to a high quality learning experience focused on the individual needs of each child. We are striving to be creative and innovative in our instruction to engage students in their learning through a variety of activities, applications of technology, and 21st Century skills purely based on Podar Curriculum.
Our school community has a long standing tradition of excellence in academics, athletics, and the arts. We are committed to our mission of preparing students to be productive citizens and life-long learners in an ever changing world.
Our primary goal at Gyanjyoti Podar Learn School is to help all students achieve their dreams and find success in pursuing life goals. We are unconditionally committed to providing the best possible educational program to our students. We believe that there are numerous opportunities, both within our curricula and through extracurricular activities, for our students to gain the skills that will allow them to be successful in their lives after high school.
While academic excellence is our major thrust, the school is also devoted to prepare the students for life, groom them to face the challenges of tomorrow, and encourage them to be socially relevant. We constantly endeavour to always live up to this ideology and inculcate this into everything we do, with the aim that we will be able to ensure that the children grow to their full potential, while constantly being groomed to pass out as men and women competent to bear responsibility in all walks of life.
The parents are the most strengthening power in moulding the future of children. Their consistent support empowers us to do more and more. I pay my gratitude to them for their faith in us.
I am confident enough that the Podarites will make themselves stronger day by day, adding a new leaf to the grandeur of the school.
Mr.Bineesh Nair
Principal,Gyanjyoti Podar Learn School (CBSE)-Kinwat,District Nanded,Maharashtra.